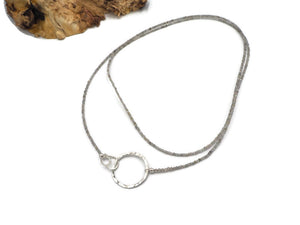 Labradorite Beads Long Necklace | DK Originals Jewelry
Handmade in Colorado | DK Originals Jewelry 
Labradorite is a beautiful stone with all the colors it shows when moving the stone around. The meaning of the stone is of transformation, Labradorite is a useful companion through change, imparting strength and perseverance. It balances and protects the aura, raises consciousness and grounds spiritual energies. Excellent for strengthening intuition - promoting psychic abilities.
Wear this delicate necklace knowing that your beauty will still shine through these difficult times. No one or thing can take that away from you! 
Length of necklace is 33 inches. 
Hammered silver circle and clasp. Unique to each necklace. We are not machines, it is more fun to design each clasp individually. Giving each necklace a unique finish. 
Handmade in Colorado. Buy DK Originals Jewelry and know that you are getting a truly handmade item, made by one person, who loves to design and create. The photo is a representation of what you will be wearing. One of a kind means each one is just a little different. Order yours today!